One of our biggest goals at Hunt County Public Art was to tie Hunt County's rich history in with the modern mural design, linking past and present visually.
We did that by referencing one of the most noteworthy parts of Greenville's history: the Flaming Flashes.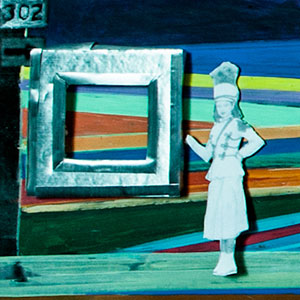 Many of the world's most famous high-kicking dance lines — from the Rockettes in New York City to the Kilgore College Rangerettes to the Dallas Cowboys Cheerleaders — have been influenced by the pioneering work done here in Greenville. Gussie Nell Davis popularized the high-kicking dance style and unique uniforms for the Flaming Flashes at Greenville High School before spreading her influence to Kilgore and around the world.
To honor that heritage, our design plan includes a large cutout of Gussie Nell Davis created from an actual historic photograph.
And in the future, we can see that same concept perhaps being applied in many areas downtown: a life-size character from Hunt County's history helping to direct foot traffic — and attention from visitors — to the many interesting and architecturally significant buildings from the area's cotton-rich heritage.