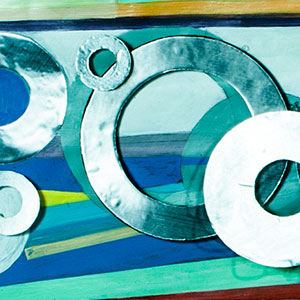 To make a big, bold visual statement in downtown Greenville, it's going to take more than paint.
While the background of the mural will be a painted, brightly colored geometric design, local artist Cathy Smithey's plan for the Armstrong Appliance building takes it a step further with custom-built metal rings to add a three-dimensional, layered effect.
As if that's not enough, we're planning to install backlighting behind the metal sculpture to make it visible and attention-getting at night. It will help to give downtown Greenville a more youthful, playful look after dark.