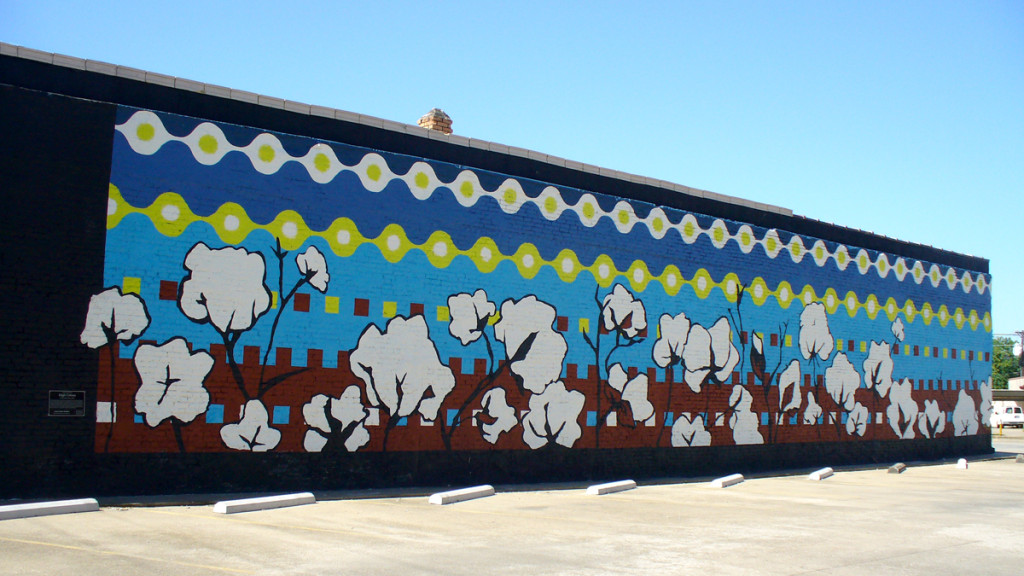 Artist: Pamela Edwards
This hard-edge abstraction celebrates the rich geologic history of Greenville, Texas. At top, wavy bands of blue indicate the many millions of years this area was underwater. White and bright yellow-green hues respectively represent salt and sulfur deposits that are abundant in local soil. Below, a multicolor rectilinear motif pays homage to Native inhabitants who cultivated the land. And the color transition from vibrant blue to deep red-brown symbolizes water seeping into enriched earth. In contrast to the colorful geometric layers above, colorless cotton whimsically emerges from blackland soil. It is cotton for which the city of Greenville became internationally known.
This mural was commissioned by Hunt County Public Art, part of Keep Greenville Beautiful. It was funded by Hearts for the Arts, and endorsed by Daniel W. Ray, Esquire. Artist Pamela Edwards was assisted by one student apprentice and local volunteers.
See a time-lapse gif image of the creation of this artwork here.
Completed December 2015
Photo Gallery: High Cotton being created